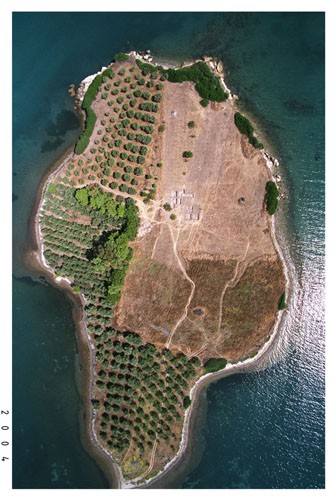 This aerial photograph of Mitrou shows how the islet is divided between olive groves and grain fields. The dazzling white outline is created by the rocky beach. The islet is a mound built up by layers of human occupation. The sides of the islet eroded by the sea show a well-preserved succession of layers dating to all periods of the Bronze Age.
Mitrou's estimated surface area (3.6 ha.) is larger than that of the Mycenaean citadels of Tiryns (2.2 ha.) and Athens (2.5 ha.), and only slightly smaller than the great citadel of Mycenae (3.8 ha.).



The islet measures about 330 m. (north-south) by 180 m. (east-west). Its upper surface is relatively flat. The highest point, about 12 m. above sea level, is at the north end and the islet slopes gently down toward the south. Sea level was several meters lower in antiquity than at present and the site was probably originally a low hill some distance from the sea.