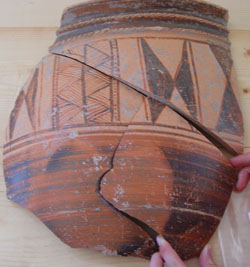 MAP offered two different field schools in 2004-2008. We are currently not excavating but we are conducting study seasons each summer. Please contact Aleydis Van de Moortel if you are interested in participating. We hope to resume excavations in the coming years.
a basic field school for up to 16 students without field experience will cover all aspects of the excavation,
an advanced field school for up to 4 experienced students will focus on the excavation and analysis of burials.
We expect students in the basic or advanced field schools to be present from June 9-August 10 to allow for 3-4 days of orientation at the start, and 3-4 days of cleaning up at the end. The geophysical field school extends from June 15-June 28.
Students in the basic or advanced field schools will receive 9 or 10 credits (the tenth credit will be awarded if a student is invited to submit a research project). The fees for either the basic or advanced field school are $5,500. The fees for the geophysical field school are $3,400.
All two field schools will be open to students from any university in any country.